I will be presenting to another group of marketing professionals on Saturday and Sunday at the weekend. The lectures will be held at  the Holiday Inn, Holburn, London.
Too much of a good thing can be detrimental. This is especially true where back light is concerned. A subject photographed in front of a window on a sunny day will be very difficult to light, as you will have to put more light onto the front of the subject than the sun is pouring onto the back. Chances are, no matter how much light you put in front, your subject will still appear to be silhouetted against the natural light from outside.
Good lighting — that is, lighting over which you have control — consists of three elements, Key, Fill and Back light.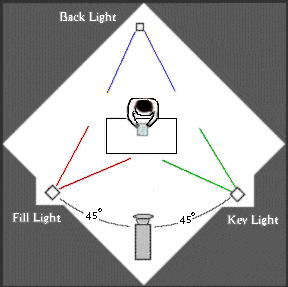 Key Light and Fill Light — We are accustomed to seeing things in nature illuminated by the sun, or by artificial light from fairly strong directional sources. Strong directional light creates a highlighted side and a less bright side, the shadow.
When lighting artificially, we use the Key Light to replace the sun. If we used the Key alone, the opposite side of the face would be almost black, as there would be little reflected light to help illuminate that side of
the face. So we use the Fill light to soften the deep shadows created by the Key Light. The Fill reduces contrasts in the darker areas of your composition, helping the video camera to produce a better image.
The Key is commonly located about 45 ° to the right or left of the camera. The Fill is commonly located 30 to 45 ° from the camera, opposite the Key, and at the same height.
Back Light — Back light is used to create visual separation of the subject from the background. It creates a halo of light on the hair and shoulders of your subject, or on the top of objects you are video taping. Like the Key and Fill, it should be about 45 ° above the subject (if possible), and should be on as close to a direct line with the camera as is practical.